Printed from: www.camejogroup.com
Home-Sweet-Home Equity
Buying a home is a long-term commitment, so it's not surprising that older Americans are much more likely than younger Americans to own their homes "free and clear." On average, only about 36% of owner-occupied housing units in the United States do not have a mortgage. For units occupied by homeowners who are 65 and older, the rate is more than 65%.1
If you have paid off your mortgage or anticipate doing so by the time you retire, congratulations! Owning your home outright can help provide financial flexibility and stability during your retirement years. Even if you still have mortgage payments, the equity in your home is a valuable asset. Here are some considerations.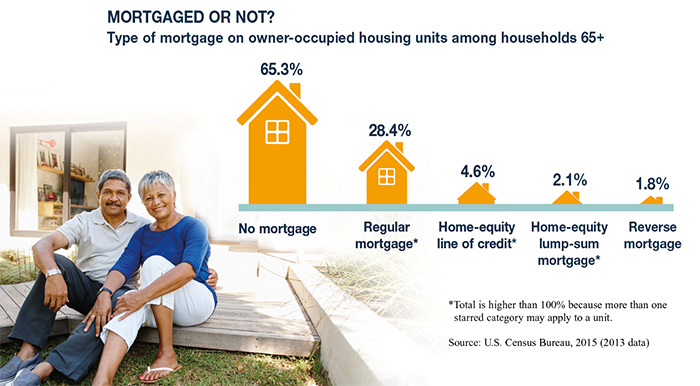 Enjoy Lower Expenses
If you are happy with your home and don't need to tap the equity, living free of a monthly mortgage could make a big difference in stretching your retirement dollars. It's almost as if you had saved enough extra to provide a monthly income equal to your mortgage. You will still have to pay property taxes and homeowners insurance, but these expenses are typically smaller than the principal and interest on a mortgage.
Consider Downsizing
If you sell your home and purchase another one outright with cash to spare, the additional funds could boost your savings and provide additional income. On the other hand, if you take out a new mortgage, you may set yourself back financially. Keep in mind that condominiums, retirement communities, and other planned communities typically have monthly homeowners association dues. On the plus side, these dues generally pay for maintenance services and facilities that could make your retirement more enjoyable.
Borrow from Home Equity
If you stay in your home and want money for a specific purpose, such as remodeling the kitchen or fixing the roof, you might take out a home-equity loan. If instead you'll need funds over several years, such as to pay for college or medical expenses, you might prefer a home-equity line of credit (HELOC). Home-equity financing may offer tax-deductible home mortgage interest and favorable interest rates because your home secures the loan. However, you are taking on another monthly payment, and the lender can foreclose on your home if you fail to repay the loan. In addition, you may have to pay closing costs and other fees to obtain the loan.
Shift into Reverse
If you are 62 or older and want to borrow money from the value of your home equity without making monthly payments, you might consider a Home Equity Conversion Mortgage (HECM), commonly called a reverse mortgage. For this type of FHA loan, you must own the property outright or have a small mortgage balance. The loan can be structured as a fixed-rate lump-sum payment, similar to a home-equity loan, or as an adjustable-rate line of credit, similar to a HELOC. A reverse mortgage also may be used to finance approximately half the purchase price of a new home, but you must pay the rest of the cost using other funds, such as savings.
A home-equity loan and a HELOC must be paid off after a set period, but you don't have to pay back a reverse mortgage as long as you continue living in the home and pay property taxes and insurance premiums in a timely manner. However, interest accumulates and the loan must be repaid after you stop living in the home for one year or more, so you or your heirs could eventually be forced to sell the home, risking exposure to the uncertainties of the housing market. Reverse mortgages typically involve higher fees than home-equity loans or HELOCs.
1) U.S. Census Bureau, 2015

The information in this article is not intended as tax or legal advice, and it may not be relied on for the purpose of avoiding any federal tax penalties. You are encouraged to seek tax or legal advice from an independent professional advisor. The content is derived from sources believed to be accurate. Neither the information presented nor any opinion expressed constitutes a solicitation for the purchase or sale of any security. This material was written and prepared by Emerald. Copyright 2016 Emerald Connect, LLC.